Telemarketing Laws: From Timeframes to Call Recording Consent
Despite the rise in social selling and email prospecting, telemarketing is still a staple of many companies' outbound strategies. While it can be cumbersome to navigate each state's specific requirements around telemarketing, the potential penalties for violations can be significant and include both fines and jail time in some states.
In this blog, we'll walk you through your obligations around allowable time windows for telemarketing and recording calls.
Is Now a Good Time to Call?
It's always a good practice to ask the person answering the phone if now is a good time to speak. But before you get that far, it's important to know the restrictions around telemarketing call windows for the state you are calling. 
Telemarketing Timeframes and State Law
The Federal Communications Commission (FCC) and Federal Trade Commission (FTC) set the telemarketing sales rules at the federal level.
For example, the FTC's National Do Not Call Registry is designed for consumer protection and levies steep fines against salespersons who call telephone numbers on the do not call list. And the Telephone Consumer Protection Act (TCPA) sets guidelines on "robocalls," text messages, and other forms of unsolicited contact to protect the public from harassment, misrepresentations, and scams.
When it comes to timeframes for telephone solicitation, federal law allows for calls between 8 am and 9 pm local time at the called person's location, but many states are more restrictive.
To help ensure interstate telephone calls are compliant with state laws, the table below lists allowable call times for states that are more restrictive than federal law.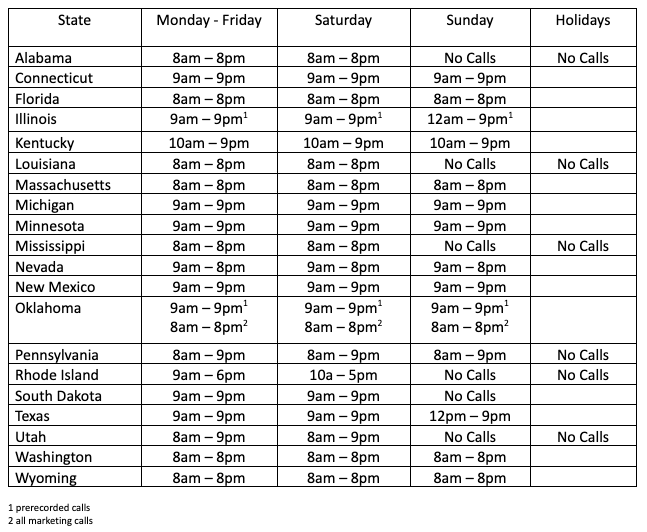 Why Record Calls at All?
Recording telephone calls can have multiple benefits for the company:
Training and Quality Assurance

: For businesses, particularly those in customer service, recorded sales calls offer a goldmine of training materials to help your team improve their

sales skills

. They enable team leaders to review conversations, provide feedback, and train new staff using real-life scenarios.

Evidence

: Recorded calls can serve as evidence in case of disputes or disagreements. They provide a tangible record of what was said, by whom, and when.

Memory Aid

: Sometimes, we just need a reference to remember the specifics of a conversation, especially if it involves intricate details.

Note Taking

: Many applications will allow users to download transcripts of call recordings. When you take those transcripts and ask ChatGPT to summarize them, including action items, you have everything you need to send a recap note to the meeting attendees.
Before You Click 'Record'
While the benefits of recording calls are significant, recording such calls without consent can infringe on privacy rights, leading to potential legal troubles.
One-Party Consent vs. Two-Party Consent
In the U.S., the primary distinction in call recording laws revolves around consent: 
One-Party Consent:
If the sales rep's state follows a one-party consent rule – and the prospect is also in a one-party consent state – only one person involved in the call needs to consent to the recording. This means if you're the one recording the call, you don't need to notify or get permission from the other party.
Two-Party Consent:
States with a two-party (or all-party) consent rule require that everyone involved in the conversation consent to being recorded. This is where it gets tricky, especially for businesses operating in multiple states.
Below is a table presenting one-party and two-party consent states. Note: If you are not sure of the jurisdiction of the person you're speaking to, it's always safer to obtain consent.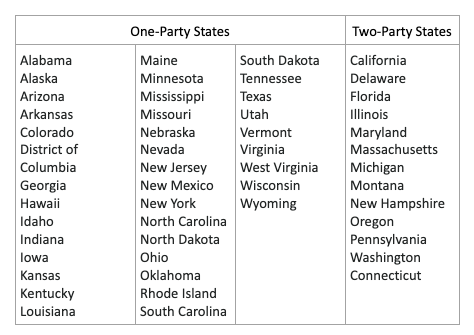 Telemarketing Laws for

International Call Recording
The telemarketing laws surrounding call recording are even more complex when businesses operate internationally. The following is a sample of existing requirements for recording phone conversations. It is essential to review local regulations in detail, especially if you're operating in or calling to/from different countries.
European Union
With the introduction of the General Data Protection Regulation (GDPR), the EU has set stringent guidelines about data protection and privacy. When it comes to phone call recording, businesses must ensure that they receive consent from the participants, maintain records securely, and confirm that the reason for using a call recorder fulfills one of five specific conditions.
Before you record a call, be sure it is:
Necessary to fulfill a contract to which the participant in the call is a party.

Required to meet a legal obligation to which the recorder is subject.

Needed to protect the vital interests of one or more participants.

In the public interest or in the exercise of official authority vested in the recorder.

In the legitimate interests of the recorder, unless those interests are overridden by the interests of the participants in the call which require protection of personal data.
Canada
Canada's Personal Information Protection and Electronic Documents Act (PIPEDA) mandates businesses to obtain consent before recording phone calls.
Australia
The Privacy Act dictates that call recording is permissible provided the other party has the required oral disclosure that the call is being recorded.
Best Practices for Compliant Call Recording
For Outbound Cold Calling 
If both states are one-party consent states, record the call and do not inform.
However, if one state is a two-party consent state, do not record the call.
For Inbound Calls
Many businesses use prerecorded messages at the start of the call. For example, "This call is being recorded for quality and training purposes."
Secure Storage
Recorded calls contain personal data, like phone numbers, credit card information, and even material information that could be sensitive for their business. Good businesses practices should ensure that these records are stored securely, limiting access only to authorized personnel.
Train Your Staff
Ensure that your team understands the importance of following call recording laws. Provide regular training to keep them updated, and monitor to ensure compliance.
Stay Updated
Telemarketing laws and regulations change. Make it a point to stay updated with local, state, national, and international laws pertaining to call recording.
Tools for Recording
It's important that your team has the right sales tools. Most video calling platforms like Zoom, Google Meet, and Microsoft Teams provide audio/visual recording capabilities. If you're making calls from a VoIP, or only have audio recordings, we recommend TL:DV. Upload your recordings to this tool for AI-generated notes and transcripts of your calls. 
While telemarketing remains a significant aspect of many sales methods, tread carefully in terms of both timing and call recording. By implementing best practices, consistently updating your knowledge base, ensuring staff training, and leveraging the right sales solutions, businesses can still effectively utilize telemarketing while maintaining compliance and fostering trust with their customers.